Juliet Shaw, Founder
Juliet Shaw, eminent pianist and thereminist, founded the Silvermine School of Music in 1939. She performed and taught in Connecticut for over a half century contributing to the enrichment of the musical community. She was an inspiration to all who knew her and, upon her death in 1994, her daughters received numerous touching testimonials from her pupils and friends telling how she impacted their lives.
Born in St. Louis, Juliet Shaw was raised in West Hartford, CT and was a graduate of the Hartford Conservatory of Music. She continued her piano studies in New York with Harold Bauer, Arelio Giorni, and Edwin Hughes. She continued to perform as soloist and duo-pianist throughout her career.
One of the very few thereminists in the world, the artist was active as a performer and lecturer on this rare instrument. The theremin, named after its inventor Leon Theremin, is an electronic instrument which Juliet often described as "plucking tones out of the air."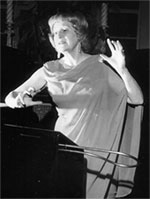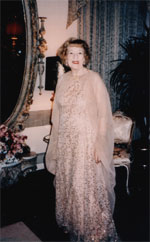 Devoted to promoting the arts, Mrs. Shaw's musical endeavors encompassed many original ideas. She created the "Twelve-Piano Symphony" which was presented on four occasions raising thousands of dollars for charity. Her interest in the art of duo-piano prompted her forming several groups of duo-pianists which performed regularly in Fairfield County. She was music director of the Darien Community Association Duo-Pianists for 42 years, now directed by her daughter Sandra Shaw Murphy, and was a life-time member of the Hartford Musical Club, the Schubert Club of Fairfield County, as well as an organizing charter member of the Norwalk Symphony, an organizing chairman for the Lincoln Center for the Performing Arts in NYC, and southern Connecticut chair of the Metropolitan Opera Guild. Other interests included travel and fine art. She was president of the Travel Club of Greenwich and state president of the League of American Penwomen.
Her daughters Sandra Shaw Murphy, pianist and organist, Director of the SSOM, and concert pianist Karen Shaw, who directed the Silvermine Artists Series and was Professor of Piano at Indiana University Jacobs School of Music, followed in her footsteps to nurture the musical community. Both Sandra and her sister, Karen, perpetuated the musical legacy of their mother in promoting excellence in music throughout the community.
Poulenc, "C"
arr. by Juliet Shaw, theremin
Sandra S. Murphy, piano
Gershwin, "Summertime"
arr. by Juliet Shaw, theremin
Sandra S. Murphy, piano